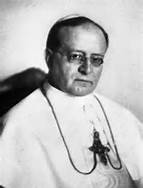 On September 6, 1938, Pope Pius XI spontaneously offered the following reflection to a group of Belgian pilgrims. It was apparently not the Vatican's practice at the time to publish papal statements that had not been prepared in advance. Consequently, Pius XI's words were not printed in contemporary Vatican publications, but they were recorded and published in Belgium and elsewhere. Given the legal restrictions being imposed on Jews by the Nazi government, some commentators hold that the sentence on self-defense reflects theological anti-Judaism (which saw Jews as a threat to Christian faith), thus undercutting the power of the famous final sentence. Others see these remarks as a first glimmer of theological solidarity with Jews. Source:
La Documentation Catholique
(1938), pp. 1459-1460; cited in Johannes G. M. Willebrands,
Church and Jewish People: New Considerations
(Paulist, 1992), p. 60.
At the most solemn moment of the Mass we recite the prayer which contains the expression "sacrifice of Abel, sacrifice of Abraham, sacrifice of Melchisedek" in three strokes, three times, three steps, the entire religious history of mankind—a magnificent passage. Every time we read it we are seized by an irresistible emotion. The sacrifice of our patriarch Abraham. Note that Abraham is called our patriarch, our ancestor. Antisemitism is incompatible with the thought and the sublime reality expressed in this text. It is alien to us, a movement in which we Christians can have no part. The promise was made to Abraham and to his descendants. It is realized in Christ, and through Christ in us who are members of his mystical body. Through Christ and in Christ we are the spiritual descendants of Abraham. No, it is not possible for Christians to take part in antisemitism. We acknowledge for all the right to defend themselves, to adopt measures of protection against what threatens their legitimate interests. But antisemitism is inadmissible. Spiritually, we are Semites.