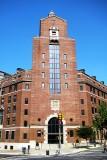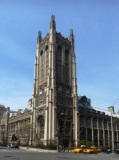 The Sixteenth Annual Meeting of the Council of Centers on Jewish-Christian Relations was hosted by the Milstein Center for Interreligious Dialogue at Jewish Theological Seminary (left) in collaboration with Union Theological Seminary (right) in New York City. Several panel sessions related to the state of interreligious relations among the three "Abrahamic" religions of Judaism, Christianity, and Islam.
The program featured a keynote address by Dr. Pamela Cooper White of UTS on "Freud's Vienna Circle, Psychoanalysis, and Antisemitism." Noting that Freud "swam in a sea of antisemitism" in the Vienna of his day, she discussed how this context and his own Jewish identity affected the development and reception of his ideas.
Drs. Mehnaz Afridi (Manhattan College) and Jerusha Lamptey (UTS) shared their experiences and insights as Muslim women teaching in Christian institutions. One revealing aspect of their presentations were the various expectations or judgments engendered in their students by whether or not the professors wore the hijab.
Drs. Richard Bulliet (Columbia University), Benjamin Sax (Institute for Islamic, Jewish, and Christian Studies), and Mark Silk (Trinity College) reviewed the history and implications of the term "Judaeo-Christian tradition." Their wide-ranging conversation considered how the term could be used to both affirm or to absorb Jewish identity, the reaction to introducing the phrase "Islamic-Christian tradition" inreference to the two larger of the "Abrahamic" communities, and whether any of these expressions contributed to a polarizing "clash of civilizations."
| | |
| --- | --- |
| | |
| | Dr. Peter Pettit (Muhlenberg College), Dr. Ruth Langer (Boston College), Prof. Alice Eckardt (Lehigh University), and Dr. Mary Boys (Union Theological Seminary) at the 2017 Shevet Achim award ceremony. |
Since several Council member centers or institutes have expanded their originally bilateral Christian-Jewish relations missions to include Muslims trilaterally, a panel of Drs. Philip Cunningham (Saint Joseph's University), Heather Miller-Rubens (Institute for Islamic, Jewish, and Christian Studies), and Burton Visotzky (JTS) discussed the various models and approaches to this question of mission as represented in the CCJR.
The traditional CCJR "View from Here" panel concluded the conference with faculty from the two host institutions: Stephanie Ruskay and Ruth Messinger (JTS) and Daisy Machado, John Thatamanil, and Lisa Thompson (UTS). They offered a variety of perspectives on the topic of racial justice and their respective duties as scholars preparing students for leadership roles in their religious communities.
A highlight of the conference was the bestowing of the annual Shevet Achim award for outstanding contributions to Christian-Jewish relations. The 2017 award was given to Alice Eckardt, Professor Emerita at Lehigh University, for her over five decades of indefatigable work, sometimes with her husband the late A. Roy Eckardt, in insisting that the churches honestly confront the legacy of Christian anti-Judaism and the role it played in making the Shoah possible. One of those who paid tribute to her, Rabbi Irving Greenberg, called her career a prophetic witness to Christianity that helped cause a transformation in religious understanding unprecedented in world history.