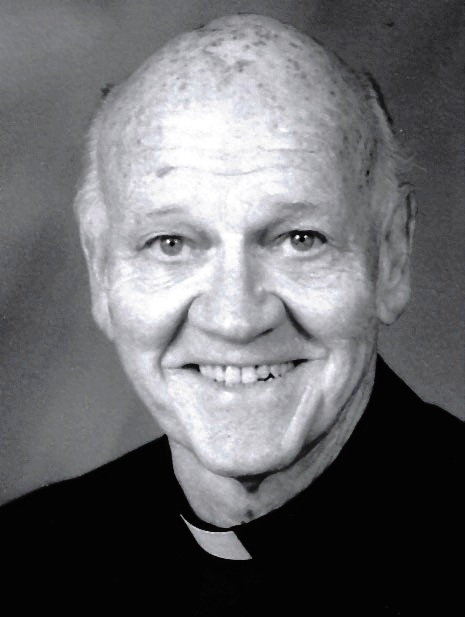 The man who once considered entering a monastery but decided to be "a man for others," spending the last 40 years tackling spiritual issues through the Jewish-Catholic Institute, died suddenly on May 4, 2009.

As an 8th-grader at a parochial school in Philadelphia, Fr. Don Clifford, SJ, won his school's spelling bee, sending him on to the championship held at Saint Joseph's Preparatory School. There he would compete against winners from all over the archdiocese for the top prize: a full high school scholarship. At $200 a year, the opportunity meant a great deal to many families, Clifford's included, who were struggling through the Depression. Although quick to admit that his impressions of the Prep were not all positive — at first he was turned off by the suit jackets and ties worn by its students — his mother convinced him to compete. Round after round, Clifford passed through. "It was pretty miraculous. The other kids were getting words I couldn't spell," he remembers, "but when my turn came around, I always got easy ones." He made it all the way to the final round to take the top prize.
The winning word was "ubiquity" — present everywhere at once.
The son of Francis J. Clifford and Mary E. Shuler, Fr. Clifford was born in Philadelphia on June 23, 1929. Winning the spelling bee gave Clifford his first contact with the Jesuits and a chance to play basketball for a team in 1947 that would go on to be the last in Philadelphia history to win the Catholic League and City Championships. The winning season earned the starting five players, including Clifford, a full scholarship to play for Saint Joseph's University.
Again, a series of fortunate events guided Clifford on his path. At Saint Joseph's, Clifford switched majors from accounting to liberal studies and found himself among a new crowd of students, who pronounced him "badly in need of some culture." He began reading religious-themed books and gained a fondness for author and Trappist monk, Thomas Merton. Considering entering the monastery, Clifford spent several days among the monks, even seeing Merton there, but decided it wasn't for him.
"Being a monk is a difficult way to be a priest," he said. "What intrigues me about the Jesuits is their understanding that God is everywhere, and in all things. One doesn't need to escape the world, as the monks do, to find God."
After graduating from college in 1951, Clifford entered the Society of Jesus. He was ordained to the priesthood June 17, 1962. During his Jesuit formation, he had the chance to study under great Jesuits such as John Courtney Murray and Gustave Weigel and gained respect for their work. After his time at Woodstock College in Maryland, he traveled to Geneva, Switzerland, where he conducted research at the World Council of Churches and joined a group preparing a document on ecumenism for the 31st General Congregation of the Society of Jesus, which had just elected Fr. Pedro Arrupe, SJ, as its superior general, in 1965. Clifford's study of the relationships among different Christian religions set the stage for his work with the Jewish-Catholic Institute at Saint Joseph's University.
Fr. Clifford began his long ministry at Saint Joseph's University in Philadelphia in 1967. He was professor of theology twice, first from 1967 to 1976 and then again from 1983 to 1998. He was director of the Saint Joseph's University Jewish-Catholic Institute from its inception in 1967 until he stepped down as director emeritus in August 2008. The institute is now called the Institute for Jewish-Catholic Relations.

He was also a minister in ecumenical relations for the university as well as the Maryland Province Jesuits from 1974 to 2007. Fr. Clifford was the university's vice president for development from 1982 to 1983 and director of the Faith and Justice Institute from 1983 to 1990. He continued working in pastoral and ecumenical ministry from the Saint Joseph's Jesuit Community from 1999 until his death.
He also served as chaplain at the Convent of the Sisters of the Assumption in Merion, Pa., from 1969 to 1983, and was editor of the National Jesuit News from 1975 to 1983.
It was in 1967 that Fr. Terrance Toland, SJ, Saint Joseph's University vice-president, asked Clifford to direct a new institute devoted to encouraging dialogue among Catholics and Jews. The institute was only the second Jewish-Christian study centers to be established in the U.S. to create the opportunity for dialogue between the two religions. "The goal of the institute is to educate people about other religions because ignorance causes division," Clifford explained. "Ignatian spirituality plays an important role in interfaith dialogue. We are a worldly religion, not an otherworldly religion. We must address the problems in this world in order to prepare for the next."